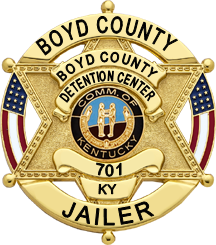 We are actively hiring!!!!

To apply, please download and complete the application at bottom of this page and email to info@boydcountyjail.com, Fax to 606-989-2102, or drop off in person at the Detention Center: 209 28th Street, Catlettsburg, Ky. 41129

Deputy Jailer - Full Time - Starting Pay $18.54 per hour
This is a skilled position in a Detention Center. It is a sworn, law enforcement position with arrest powers. However, the power of arrest is to be used only on Detention Center property. An employee in this position is responsible for the supervision of inmates. The Deputy Jailer will perform all tasks in a professional manner. Work is performed under general to close supervision.
Benefits
Examples of Deputy Jailer Duties:
Be able to perform all tasks related to in and out processing of inmates

Arrange for the inmates to attend court

Supervise the general cleaning of the Detention Center

Supervise the distribution of inmate meals

Specifically supervise the cleaning of inmate cells

Transport inmates to doctor, dentist, hospital or other appointments

Process work release inmates out and back in to the Detention Center

Search work release inmates and other inmates for contraband

Search cells periodically for contraband

Serve and file warrants

Use and monitor a two-way radio

Meet and deal effectively and courteously with the public

Process and account for money received for bonds, fines, etc.

Maintain daily logs and records as required

Culminate an arrest on Detention Center property when necessary

Write offense citations accurately

Mark and disperse evidence properly

Testify in court

Assist all law enforcement agencies in a cooperative manner

Be familiar with previous shift's activities and be able to pass-on information to on-coming shift personnel
Special Requirements for Deputy Jailers
Must be at least twenty-one (21) years of age

Must be a high school graduate or possess a GED

Discharged under honorable conditions, if served in military

Is not prohibited by federal or state law from possessing a firearm

Must be able to read and write the English language

Attend and successfully complete twenty-four (24) hours of Correctional Training per year

Must possess valid motor vehicle operator's license

Must successfully complete a criminal, driving, medical history, drug screen and employment background check

Submit to Random Drug screens





To apply, please complete the attached application and email to info@boydcountyjail.com, Fax to 606-989-2102, or drop off in person at the Detention Center: 209 28th Street, Catlettsburg, Ky. 41129


BCDC Job Application: